Since 1996, Integrated Development Planning (IDP) has become a tool for municipal planning and budgeting to enable municipalities to deliberate on developmental issues identified by communities. The introduction of IDP has not only affected municipal management, but also improved services in communities without access to basic infrastructure. The implementation of IDP as a subsequent phase of planning serves to unite the total efforts of the municipality behind a strategy to link the operational activities to successful execution of strategy. This would necessitate senior officials to assume responsibility; cohesion among councillors, officials and communities; integrating planning efforts; communicating with all stakeholders; aligning operational activities of the departments with the IDP as an overarching municipal plan; linking the IDP to budgetary processes; and prioritising projects and programmes. The IDP has a lifespan of 5 years that is linked directly to the term of office for local councillors.
After every local government election, the new council has to decide on the future of the IDP. The council can adopt the existing IDP or develop a new IDP that takes into consideration existing plans. And every year the IDP has to be reviewed to accommodate new priorities or to maintain existing ones.
The IDP preparation process requires an intensive consultation and participation of communities, all role-players, and key stakeholders in order to achieve shared understanding of the municipal development trajectory and alignment. Although municipalities are expected to establish participation structures, it will however be critical to consider utilizing existing arrangements, adapt them if necessary, and avoid duplication of mechanisms. The following consultative structures are recommended:
IDP Advisory Committee (Through Mayoral Committee)
IDP Representative Forum
IDP Steering Committee
IDP Technical Groups
To ensure that the IDP document is truly integrated and aligned to the various multi-sectoral plans it needs to go through various stages. These stages ultimately yield the core components of the IDP as set below.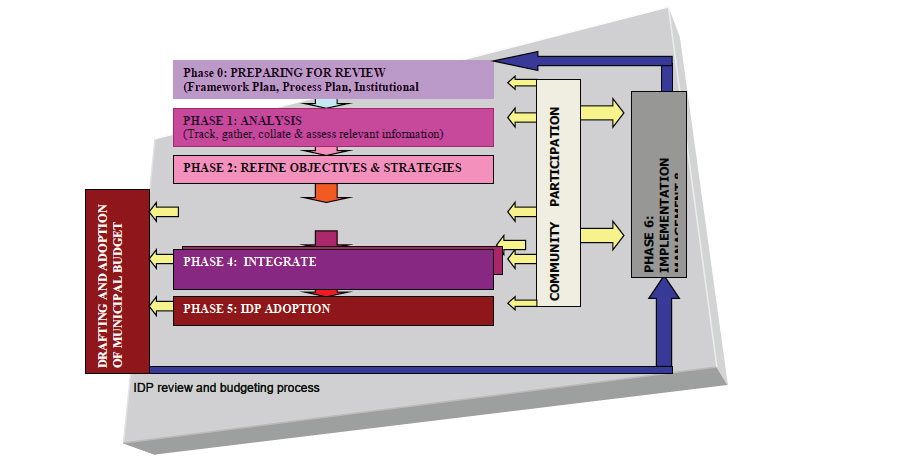 Emalahleni Local Municipality planned community meetings to ensure that the Priorities for Development are informed by ward priorities and that the community is consulted on all the key processes that have been aligned above.